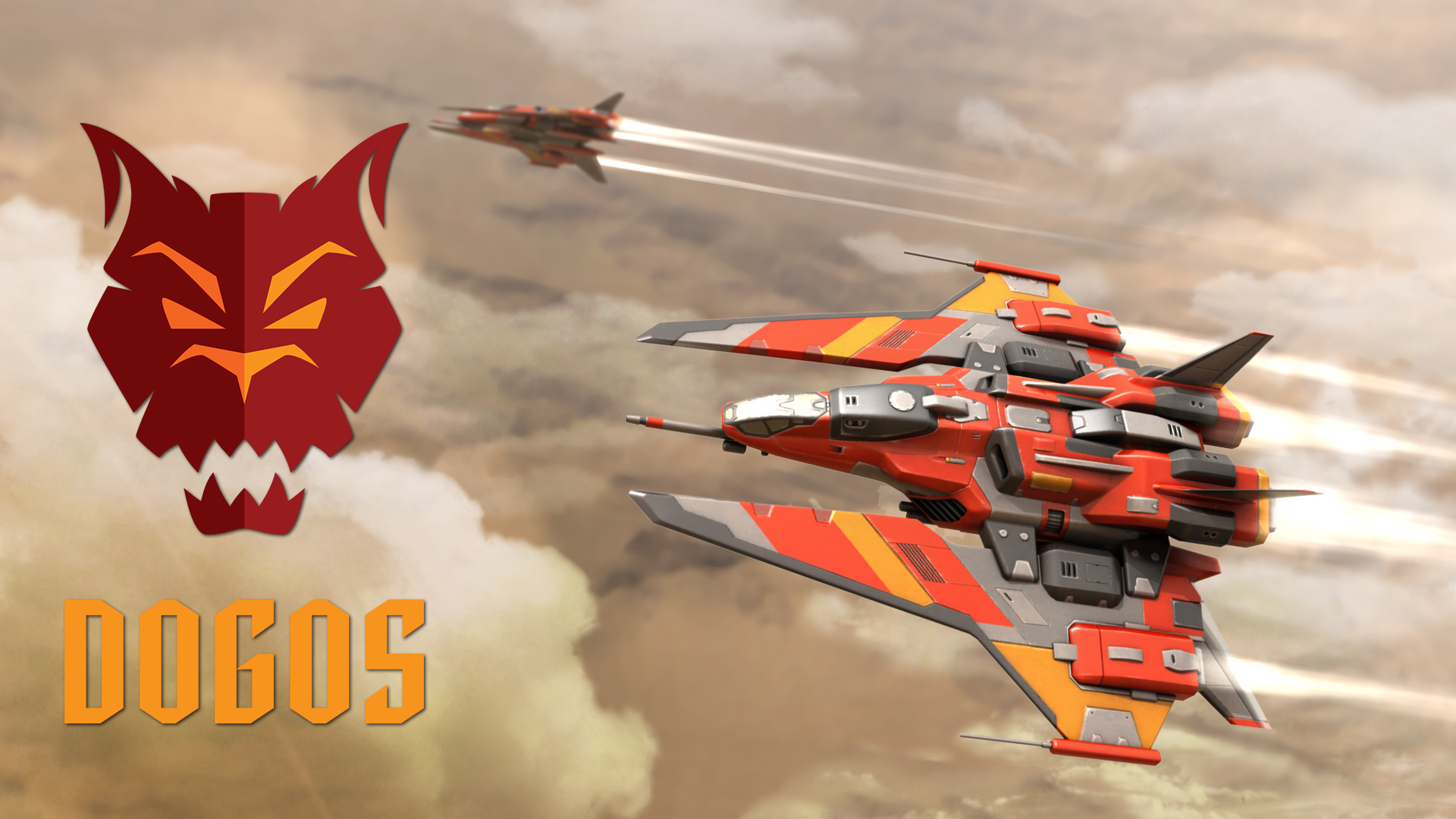 DOGOS
Dogos
Inspired by the classical Shmups! DOGOS uses current technology to bring the gaming experience to the next level. Putting the player in the shoes of Desmond Phoenix, a skilled pilot in command of sophisticated ships, equipped with various types of powerful weapons, DOGOS invites you to explore 14 original open world levels completely made in 3d, giving the opportunity to meet the goals from any angle that the player can imagine.
Action, an insane quantity of shooting and explosions, ( not kidding a lot of explosions ), all accompanied by an incredibly catchy soundtrack.
If you were looking for an experience that really test your skills and reflexes.
If you like fast and action-packed games.
If you want to fight powerful BOSSES and vast hordes of enemies.
Then DOGOS is what you were looking for ..
September 6 PS4, September 7 Xbox One and PC
Story

50 years ago the earth was invaded by a race of biomechanical beings.
Humans, nicknamed Zeetnuks.
Those creatures turn into dust everything in his path. And they consumed almost every resources of our planet.
In the last years of the war, was possible to build a bunch of airships, with the meaning to change the course of battle. Combining human technology with Zeetnuk tech, a squadron of powerful airships was born. The engineers christened KZ-72 and SI-15.
Pilots preferred to call them DOGOS.
But before the squad went into combat something went wrong, and the Zeetnuks launched a surprise attack on a human base where the prototypes were.
Fortunately, Desmond Phoenix a skilled pilot managed to take control of one of the ships and escaped alive.
Desmond and his innate ability to fly, served as a fundamental pillar in the outcome of the war against the Zeetnuk.
DOGOS tells the story of him and how his actions changed the destiny of humans as a race.
Features
3D OPEN WORLD
14 levels full of detail, with open world approach. Navigate them as you wish.
Beautiful and detailed level design. Gorgeous Textures and Awesome dynamic illumination.
DIFFERENT CAMERAS MODES
Dynamic in-game camera changes offers a complete new form of gameplay in games like this.
LOTS OF ENEMIES AND HARDASS FINAL BOSSES
A huge variety of enemies and bosses, obligate to create new strategies at every minute and ensures hours of fun.
CAREFULLY BALANCED GAMEPLAY
4 Levels of difficulty delivers gameplay possibilities to the newcomer and also to the most experienced player.
AMAZING SOUND AND STICKY MELODIES
We offer you a high level of sound and music originality and of course, high definition graphics. This game is gonna blow your senses away.
HIGH SPEED GAME REQUIRE BEST REFLEXES.
Running at 60 fps at 1080p resolution amid the chaos of alien warfare, will truly test your senses and reflexes.
So... try not Blink if you want to stay alive.
CHOSE YOUR SET UP, CHOOSE YOUR GAMEPLAY STYLE
Ships, armament, skins, try all the configurations you want until you find the one that fits you.
| | |
| --- | --- |
| Published | Mar 24, 2016 |
| Status | In development |
| Release date | Sep 08, 2016 |
| Rating | |
| Author | opqam |
| Genre | Shooter |
| Tags | Fast-Paced, Open World, opqam, Shoot 'Em Up, Top-Down, Top down shooter, Twin Stick Shooter |
| Average session | A few minutes |
| Languages | English, Spanish; Castilian |
| Inputs | Keyboard, Mouse, Xbox controller, Gamepad (any) |
| Links | Homepage, Twitter |